3BB has provided the latest technology; broadband internet over fiber optic network FTTx (Fiber to the Home) with maximum speed 2,500 Mbps.With improved technology, this will completely change your daily experience. You can upload and download the data which faster and more reliable than ever. Especially, in the era of Triple-play service; you can deploy multimedia service such a video conference, e-learning, video on demand or pay per view. Moreover, you can mix and match the immense amount of contents that serve customers' need.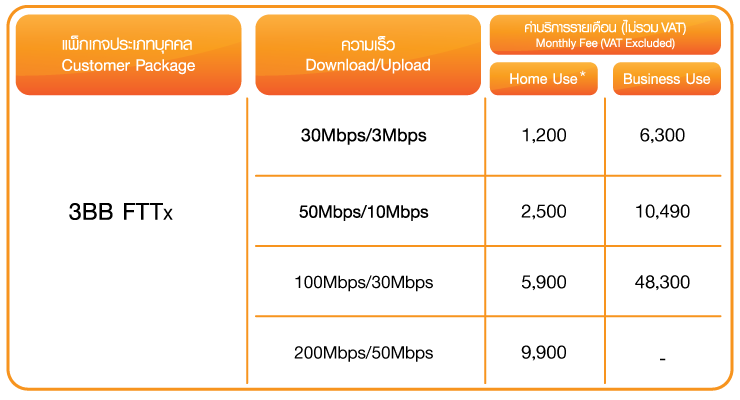 *This promotional price is valid to March 31, 2016
Sign up for the service please click here
Terms and Conditions
The first month service fee will be collected when applying for the service.
A deposit of 2,000 baht for GPON ONT equipment will be collected. (This standard price is 3,500baht.)
Other fees such as the installation and in-house fee are according to promotion basis.
Please check service availability before signing for the service.
Speed of Broadband and Wi-Fi service are on a "Best effort" basis, therefore, the company reserves the right and will not be responsible for the reduction of speed due to technical, network limitation and the number of concurrent users at the period of time.