Wireless broadband internet, next step of wireless technology which allows you to surf internet, share via social media network, email, play online games and also enjoy with VDO streaming with no cabling is required, just plug CPE to your computer and start surfing. This is very convenience for retail users who lives in residential, village, condominium and also suit with any type of business.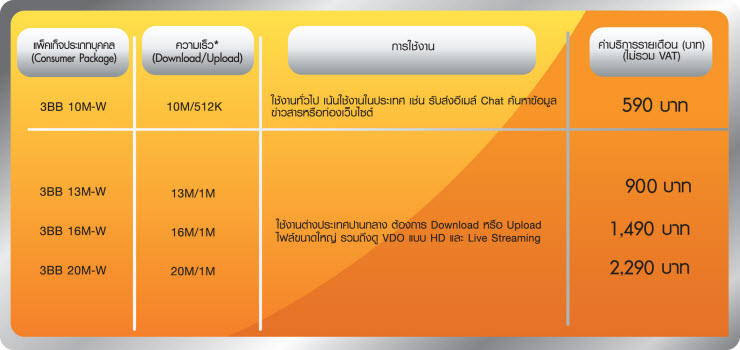 Terms and Conditions
A deposit of CPE (Wi-Fi client device) 2,000 Baht will be collected.
In case that indoor LAN cabling is required, it will be charged 30 baht per meter.
In case that extended antenna is required within 3 – 6 meters area, it will be charged 300 Baht.
This service isavailable only in applicable area. Applicants should check the covered area with call center prior to application.
Speed of Broadband Wi-Fi services is deploy on a "Best effort" basis, then, the company reserves the right not to responsible for the reduction of speed due to technical, network limitation and also the number of concurrent users at the period of time.
The company reserve the right to change some part of promotion and/or equipment model without prior notice.

* Call center 1530